I followed the tutorial from here: http://zetcode.com/tutorials/javagamestutorial/tetris/
All credits for the game go to him.
About what I did with the game, go to http://ideascomecheap.blogspot.com/2013/05/tetris.html
---
About the Game
The game is made with Java, utilising the javax.swing library
The blocks are not images; they are pixels in which the top and left sides are painted with lighter colour while the right and bottom sides are painted with darker colour to give the essence of 3D block
More information about the game code mechanism could be gotten from the link to the tutorial above.
---
To play the game, run Tetris.java

Control:

| | |
| --- | --- |
| Move | Left and Right Direction arrows |
| Rotate | Up and Down Direction arrows |
| Drop-down | Space Bar |
| Pause/Unpause | P |
Screenshot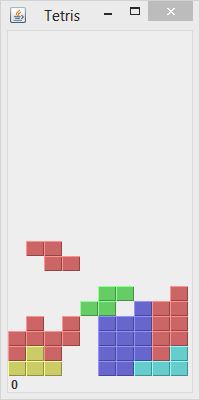 *I am still figuring out how to deploy Java in the Web, so for the time being, if you would like to try the game, you could remake the whole thing from the tutorial, or fork my repo. Have fun!